Overview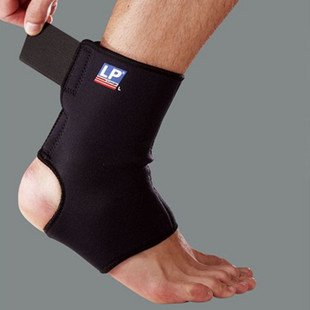 A tendon is a band of connective tissue that anchors muscle to bone. The Achilles tendon is the largest tendon in the body. It attaches the calf muscles to the heel bone (calcaneus) and is very important because it lets you lift your heel when you start to walk. It also helps you to walk, run or stand on tiptoe. Achilles tendonitis is inflammation of the Achilles tendon. In most cases, it is a type of overuse injury and is more common in younger people. Professional and weekend athletes can suffer from Achilles tendonitis, but it is also a common overuse injury in people not involved in sport. Treatment includes rest, non-steroidal anti-inflammatory drugs (NSAIDs), physical therapy and avoiding activities that aggravate the condition.
Causes
Achilles tendinitis is typically not related to a specific injury. The problem results from repetitive stress to the tendon. This often happens when we push our bodies to do too much, too soon, but other factors can make it more likely to develop tendinitis, including a bone spur that has developed where the tendon attaches to the heel bone, Sudden increase in the amount or intensity of exercise activity-for example, increasing the distance you run every day by a few miles without giving your body a chance to adjust to the new distance, Tight calf muscles, Having tight calf muscles and suddenly starting an aggressive exercise program can put extra stress on the Achilles tendon, Bone spur-Extra bone growth where the Achilles tendon attaches to the heel bone can rub against the tendon and cause pain.
Symptoms
Common symptoms of Achilles tendinitis include weakness in the leg, slight pain above the heel in the lower leg after activity, feeling of stiffness in the leg that usually appears in the morning and lessens throughout the day, bad pain the day after exercising, pain as you climb stairs or go uphill, swelling in the area of the Achilles tendon, creaking or cracking noise when you press on the Achilles tendon.
Diagnosis
Examination of the achilles tendon is inspection for muscle atrophy, swelling, asymmetry, joint effusions and erythema. Atrophy is an important clue to the duration of the tendinopathy and it is often present with chronic conditions. Swelling, asymmetry and erythema in pathologic tendons are often observed in the examination. Joint effusions are uncommon with tendinopathy and suggest the possibility of intra-articular pathology. Range of motion testing, strength and flexibility are often limited on the side of the tendinopathy. Palpation tends to elicit well-localized tenderness that is similar in quality and location to the pain experienced during activity. Physical examinations of the Achilles tendon often reveals palpable nodules and thickening. Anatomic deformities, such as forefoot and heel varus and excessive pes planus or foot pronation, should receive special attention. These anatomic deformities are often associated with this problem. In case extra research is wanted, an echography is the first choice of examination when there is a suspicion of tendinosis. Imaging studies are not necessary to diagnose achilles tendonitis, but may be useful with differential diagnosis. Ultrasound is the imaging modality of first choice as it provides a clear indication of tendon width, changes of water content within the tendon and collagen integrity, as well as bursal swelling. MRI may be indicated if diagnosis is unclear or symptoms are atypical. MRI may show increased signal within the Achilles.
Nonsurgical Treatment
Conservative management of Achilles tendinosis and paratenonitis includes the following. Physical therapy. Eccentric exercises are the cornerstone of strengthening treatment, with most patients achieving 60-90% pain relief. Orthotic therapy in Achilles tendinosis consists of the use of heel lifts. Nonsteroidal anti-inflammatory drugs (NSAIDs): Tendinosis tends to be less responsive than paratenonitis to NSAIDs. Steroid injections. Although these provide short-term relief of painful symptoms, there is concern that they can weaken the tendon, leading to rupture. Vessel sclerosis. Platelet-rich plasma injections. Nitric oxide. Shock-wave therapy. Surgery may also be used in the treatment of Achilles tendinosis and paratenonitis. In paratenonitis, fibrotic adhesions and nodules are excised, freeing up the tendon. Longitudinal tenotomies may be performed to decompress the tendon. Satisfactory results have been obtained in 75-100% of cases. In tendinosis, in addition to the above procedures, the degenerated portions of the tendon and any osteophytes are excised. Haglund?s deformity, if present, is removed. If the remaining tendon is too thin and weak, the plantaris or flexor hallucis longus tendon can be weaved through the Achilles tendon to provide more strength. The outcome is generally less favorable than it is in paratenonitis surgery.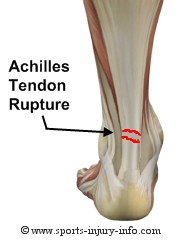 Surgical Treatment
If non-surgical treatment fails to cure the condition then surgery can be considered. This is more likely to be the case if the pain has been present for six months or more. The nature of the surgery depends if you have insertional, or non-insertional disease. In non-insertional tendonosis the damaged tendon is thinned and cleaned. The damage is then repaired. If there is extensive damage one of the tendons which moves your big toe (the flexor hallucis longus) may be used to reinforce the damaged Achilles tendon. In insertional tendonosis there is often rubbing of the tendon by a prominent part of the heel bone. This bone is removed. In removing the bone the attachment of the tendon to the bone may be weakened. In these cases the attachment of the tendon to the bone may need to be reinforced with sutures and bone anchors.
Prevention
As with all injuries, prevention is your best defense especially with injuries that are as painful and inconvenient as Achilles tendonitis. Options for how to prevent Achilles tendonitis include, stretching- Stretching properly, starting slowly, and increasing gradually will be critical if you want to avoid Achilles tendonitis. To help maintain flexibility in the ankle joint, begin each day with a series of stretches and be certain to stretch prior to, and after, any exercise or excessive physical activity. Orthotics and Heel Support- Bio-mechanically engineered inserts and heel cups can be placed in your shoes to correct misalignments or bolster the support of your foot and are available without a prescription. The temporary heel padding that these provide reduces the length that the Achilles tendon stretches each time you step, making it more comfortable to go about your daily routine. Proper Footwear- Low-heeled shoes with good arch support and shock absorption are best for the health of your foot. Look into heel wedges and other shoe inserts to make sure that your everyday foot mechanics are operating under ideal conditions.